Whenever an inexpensive yet genuine pre-workout is desired, there comes no name but Six Star Pre-workout Explosion. It gives them the motivation to do a more and good workout by never compromising on your pocket. It promises to keep your spirits higher for the heavy workout session and also helps you restore the body after the workout. Without a good pre-workout, the body is incapable of pushing its limits, and hence the main point of working out is missed. Make sure you are not hurting your self by excessive workout by taking no pre-workout at all.
It comes in three different variations, and you can choose whatever you like according to your need. You can get it in the form of capsules, powder, or already prepared shots. The four very exciting flavors and addition of no-flavor pre-workout are available in this Explosion range. Fruit Punch is very famous for its fruity sensations. Icy-Rocket is newly launched, and its consumers are applauding it as well. Other than these two, Pink Lemonade and Berry Blast is also available in the range.
workout explosion Ingredients:
The Six Star pre-workout contains mostly artificial ingredients. The main components that contribute to the making of this Product are listed below:
Beta-Alanine 1500 mg: The very much needed, Beta-Alanine provides extended stamina. The workout efficiency improves, and the muscles dilate and relax. Hence more work is done. Beta-Alanine produces a tingling sensation after its intake, and this sensation is thought to provoke the workout.
Caffeine Anhydrous 135 mg: Caffeine is a part of almost every good pre-workout available in the market. It efficiently enhances the metabolism of the cells and keeps the cortisol and the epinephrine level higher, which helps in keeping the body awake for a more extended period. This restlessness provokes a better workout session, where a person can finish his workout goals. The amount of caffeine is considerably meager in the Six Star pre-workout explosion when compared to other pre-workout products.
Creatine Monohydrate 1500 mg: Creatine is a natural compound found in the body. However, it is always needed before a workout since a high amount of energy has to be released by the muscles during the exercise. This external creatine gives an extra push to the body and also lets the muscles relax.
Choline and L-tyrosine 120 mg: Choline is very useful in supporting muscles to move. The athletic performance is exceptional after choline intake. It promotes the stamina for more extended periods and restores the loss of acetylcholine after the workout. L-tyrosine is also proven to increase the adrenaline levels keeping the power level one hundred.
Vitamin C 250 mg: Vitamin C is very significant for recovering the body after a workout, by lowering the amount of cortisol. It also reduces catabolic stress and builds the immune system. Vitamin C has more like hormonal effects in the body and sends signals that stimulate the growth of more tissue cells and keeping the blood saturated.
Niacin 30 mg: The vitamins are essential to keep the body going. It helps to keep the blood vessels soft and dilated, thus improving the blood flow. Water-soluble vitamins such as Niacin, some of it dissolves in the tissues as soon as we intake them; the remaining becomes the part of water inside the body. During the process of urination, we lose such water-soluble vitamins too. Therefore, there is a need to maintain the level of Niacin externally. The doses of Niacin vary with age and gender. Six Star pre-workout contains a higher dose of Niacin than averagely required.
Some key words: six star pro nutrition,nutrition pre workout,dose of caffeine,advanced pump complex,taurine l citrulline,l citrulline malate
Dosage:
Since the amount of every stimulant product used in the manufacturing of the Six Star pre-workout explosion is very low, it is extremely good for beginners. If you are a beginner, then it is an excellent idea if you start the Product's intake lesser than one full spoon and lots of water. But for a person who workouts regularly can intake one full, unlevelled, scoop of the pre-workout powder and stir it up with six oz of water. You can increase your dose according to the way you are feeling, but make sure you never exceed two scoops in a day.
Positive Aspects
When its quality and quantity is compared with its price, it is a win-win situation. Although the market offers many better alternatives, they usually cost more than 40 US Dollars. It is a cheap product and is primarily available in Walmart, Kmart, and other drugstores.
A pre-workout crash can never be experienced with Six Star pre-workout Explosion, as the amount of caffeine is negligible in it.
Although the flavor variety is less whatever flavors are available, they're all yummy.
Negative Aspects
The Product is exceptionally under-dosed. And it is suitable only for rookies. Not only this, but many beginners have also claimed that they did not feel anything extra after this Product's intake. Therefore, we can say it is an extremely light Product.
A massive con to consider here is that it is not available in multiple flavors. There are only three flavors that do not serve the purpose of people with different interests. Moreover, usually, only one flavor, Fruit Punch, is available in the market.
Six Star pre-workout does not build strength for longer periods and never serves in strengthening the immune system. It instead just boosts up the energy to a certain level. The Product could do wonders if it can build the stamina as well.
Side effects:
Not suitable at all for people who have a history of having a heart attack. It can cause severe side-effects if implanted into the diet of pregnant women or those who are breastfeeding. The increase in their restlessness can be more significant than others since such women are already going through several hormonal changes.
Other than that, this product does not cause any significant side effect that needs to be mentioned here, since, as discussed above, the Product is extremely light.
Reviews by users:
People have both good and bad reviews about this Product. Some are loving how light it is, and some have issues.
JeffrayGooch, an authentic buyer from Amazon, says, "Product works great, but only Fruit Punch is available? I have changed to another brand just because of this reason. Will come back if you offer new flavors."
Another verified, authentic buyer, Vbartoloma, from Amazon says, "The absolute best pre-workout I've ever used. Drink this, give it about 10-15min, and you will already be feeling like Hulk. It delivers."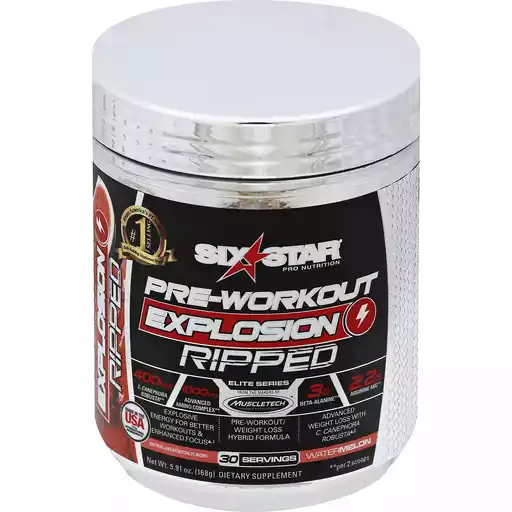 FAQs:
Some of the queries are usually put forward when buying the Six Star pre-workout explosion. We have answered a few of them below:
Q: Does the pre-workout makes you gain weight?
A: No, this pre-workout does not help in gaining weight. It merely boosts your energy level, so your muscles stay in working condition during and after your workout.
Q: Is the product vegan?
A: We are pretty sure that the Product is vegan since every additive is some kind of protein compound. Also, as mentioned on the product breakdown list on the carton, soybean can be seen as an ingredient making it a hundred percent vegan.
six star pre workout explosion review Conclusion
When compared with other products in the market, this Product has short come. However, when it is seen alone and considering all the right ingredients, loads, or quantity and still inexpensive, this product ace the world. If you need something light in the nutrients, which is also never a bad option because this way, the body doesn't get used to high dosages of extra nutrients, then this Product exists for you.