Pump enhancers are a big thing these days. The aesthetic value of training and bodybuilding is at an all-time high. Gym geeks and freaks go crazy when they see the blood pumping through their colleague's muscles. The desire burns badly inside their fiery hearts, to see their muscles pump the same way too. And in their desperateness, they go for anything that promises even a slight improvement. This is the reason why the market is currently saturated with supplements of all sorts. How do you find a quality product? There is a labyrinth to be explored! A better idea, why don't you let us describe something that will interest you immensely? Oh, and it will do a little more profitable to you than pumps! 
Citrulline: An overview
OK, so the subject matter of this discussion is going to be citrulline. Have you ever heard about the amino acid citrulline? Even if you have so, are you aware of the potential benefits this little wonder product has to offer to the user? If your answer is yes, you can buy one citrulline supplement for yourself and start believing in pumping even more so. But if you are unaware of the citrulline benefits, you can keep reading. We have some exciting things to share with you! 
So far, all that you know about citrulline is its nature. An amino acid. It falls under the category of non-essential amino acids, and the reason is that our bodies can produce this amino acid. In the protein synthesis pathways, citrulline has an important role to play. Not only that, but citrulline is also a key element of the much-famed urea cycle. But the use that concerns us the most is the one that is related to bodybuilding. Yes, you guessed it right, pumps! We want to keep the scope of this discussion wide enough to accumulate enough information about citrulline and its enhancing role in the various phenomenon. But first, let us have a look at some of the natural sources from which you can easily obtain citrulline. 
Natural sources
Like we said earlier, our body can produce citrulline on its own. However, some several fruits and vegetables are a rich source of citrulline. These include watermelon, pumpkins, cucumber, melon, and gourds. Out of these, watermelons have the highest percentage of citrulline. It is worth mentioning here that the citrulline supplements that are quite popular these days feature two types of citrulline. These include L-citrulline and Citrulline malate. We will talk about these a bit later in this discussion, but for now, we are more concerned with the natural sources of this amino acid. In terms of effects, both are nearly the same. Hence, you don't need to strain your brain about multiple types of this amino acid, just yet.
Mechanism of action
Now, let us get a bit technical and explore the working mechanism of citrulline. By nature, citrulline is a vasodilator. If you don't know about vasoconstrictors and vasodilators, let us explain the difference briefly. Vasoconstrictors are the substances that cause the narrowing of blood vessels, hence constricting the blood supply to muscles. Conversely, vasodilators are the substances that are involved in the widening of the blood vessel. Now the question buzzing in your mind has to start with a how. Are we right? Well, citrulline, when consumed, gets converted into yet another amino acid, which is known as arginine. However, the cycle doesn't stop here. Arginine then gets converted to nitric oxide. This is the chief vasodilator in the circulatory system and produces the effect of the widening of blood vessels. It follows logically that when your muscles are relaxed, more blood can circulate through the blood vessels. Yes, yes, we know what you are thinking. Why not consume arginine directly? Well, the answer surprises some, but it is the truth. The converted arginine is a much better source of the ultimate product, i.e., nitric oxide, than the arginine that exists in the body already. Weird science, right? But we aren't going into the details here.
Citrulline pros
Call these pros, advantages, or benefits. Whatever you like. It doesn't change the fact that citrulline has many plus points to offer apart from the typical regulation of processes in the body. In the following lines, we are going to highlight such five important pros associated with citrulline. Attention, class in session! 
1- Pumps 
Ah, you must be so happy that we are finally going to talk about pumps in detail. Everyone in gyms and training clubs wants their muscles to be swelled up and give that look, which will make others envious of it. There are many other supplements as well that can produce the effect you are after but none as good as citrulline based supplements. We have explained the bit about vasodilation, and we hope you understood that because pumps are essentially related to that. It makes sense that when more blood finds its way into your muscles, they appear to be much fuller or swelled up. Citrulline has certainly solved the why ain't it all swelled up the problem for many gym geeks and freaks. We see no reason why the same shouldn't happen for you if you properly take the supplement.
2- The endocrinal effect 
It is a positive one. But that is not the interesting part. The interesting part is about the hormones that show a rise in the curve, production-wise. Can you guess which hormones are those? Growth hormones. The impact of this increased hormonal production is a massive one. As the growth hormones increase in your bloodstream, the time taken by your muscles to recover after the workout declines dramatically. Not only that, but a fantastic boost in your overall muscle mass also becomes visible. These events are directly linked with most of the ambitions and goals that athletes and professional trainers set for themselves. You can sleep better too, which is always a relief, wouldn't you agree?
3- Clarity 
Mental sharpness and clarity of focus are two important characteristics of a good gym session. Again, all of this is linked with the vasodilation story that we narrated to you earlier. Since more blood is flowing through the blood vessels, an increase in the supply of nutrients occurs. Your body tissues and organs are getting more nutrients and oxygen; this then eventually leads to a homeostatic state in its primal form. The brain is no exception in this scenario; a better supply of oxygen improves cognition. This ultimately translates into a workout session in which your concentration levels never dip, and you are always on the alert. Final result? Improved aesthetics plus incredible endurance.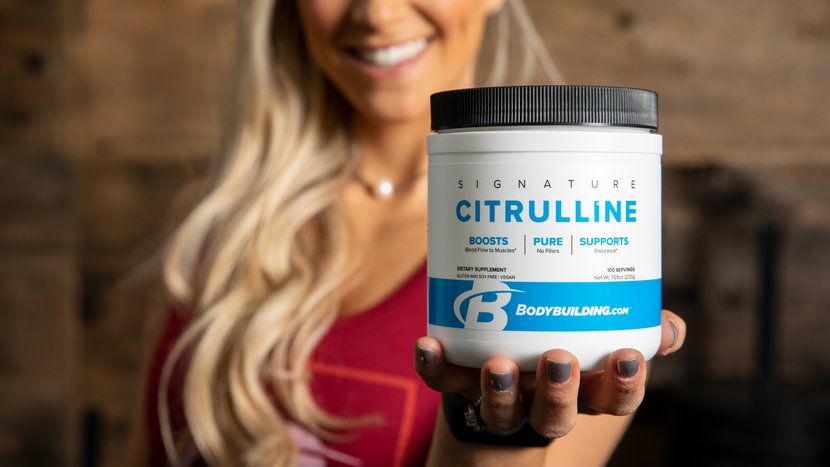 4- Endurance 
Linking to the previous, endurance and stamina are two defining traits of your workout efforts. Some pre-workouts feature citrulline. Remember that caffeine is good enough to kick you for 5-6 hours alone. Then why add citrulline? Simply because this amino acid has been shown to have properties that can lead to a massive boost in your energy levels. As a result, you can hit the gym with even more enthusiasm and zest than you were going to do without guzzling down the pre-workout. 
It is worth knowing how citrulline achieves what we just told you. The amino acid is responsible for a boost in the ATP, i.e., the energy currency used in cells. Hence, cellular energy quotient increases, which leads to a boost of energy whenever you drink a pre-workout that features citrulline. Another way citrulline improves endurance is by making sure that some of the amino acids don't remain in a locked state. This release also leads to a greater level of energy, which you can use to push the limits while hitting the gym hard! 
5- Vasodilation 
All of the effects mentioned above wouldn't have taken place, no matter how much how citrulline you gobbled up if it wasn't in citrulline's capacity to promote vasodilation. At this stage in the discussion, you should be able to realize that dilated blood vessels can completely change the game! 
Use it like this!
People research stuff but forget to study the most crucial bit about supplements. Yes, how to take a citrulline supplement? We can assure you that there is a threshold for everything going inside your body, and when this invisible barrier is breached, complications of the worst sort can emerge. Hence, following the recommended doses is essential. Now, as far as the citrulline supplementation goes, well, you need to start with smaller amounts. For example, start with three grams and then amp it up till you start seeing the results. Convention with regards to citrulline is that 3-6 grams per day ought to do the trick.
There is one thing that you need to be mindful of when you are using citrulline to boost your gym performance or improve the aesthetic aspect of your physique. Which type of citrulline are you using? Is it L-citrulline or citrulline malate? We talk about the latter a bit later, but the former is essentially just citrulline and nothing else. For citrulline malate, you will have to gobble up as much 8 grams of a supplement before you see the desired results. The best thing to do, however, would be to seek the help of a gym pro or a trainer who has had the taste of citrulline supplements. Experience matters! 
Arginine vs. citrulline
Remember the question about arginine that puzzle you at the beginning of this article? Well, we thought we would settle the matter entirely by comparing these two amino acids. You decide which one is better! OK, since you already know about citrulline, we thought it prudent to discuss the arginine side of things more in this place. Arginine, when consumed in a sizeable quantity, can lead to GI tract turbulences. This isn't the case with citrulline. Also, the absorption numbers are way better for citrulline as compared to arginine. And lastly, the readiness with which citrulline gets converted to arginine is unparalleled. Now you can see it for yourself that which amino acid wins the race here, can't you?  
What is citrulline malate?
Research is still in process as far as citrulline malate is considered. Hence, we are going to be cautious about what we say in this section. But of course, we are going to spill some beans for you. Chemically, this is a compound that features citrulline bound to malate. Malate is a salt of the much famed malic acid. It is an organic salt; malic acid itself is a key component of the citric acid cycle. Malate itself plays an essential role in body processes, but as we said, we won't speculate stuff. Hence, what we just narrated is enough for the sake of this discussion. 
Is citrulline safe to use?
This should have been in the pros! But never mind. This is the best bit about this non-essential amino acid and the various supplements that are purely citrulline in nature. There are no major side effects associated with this pumping supplement. You will face a very tough challenge if you try to find a supplement as effective as L-citrulline without any downsides. Of course, this doesn't give you the license to smoke it away all day. You still must follow the norms of caution and don't gobble up more than the recommended quantity.  
Conclusion
Well, that will be all for now. We wish we could carry on a bit longer; the topic is so interestingly vast! Unfortunately, the limitations of time and space force us to wrap up this discussion here. Nevertheless, we hope that you learned something, if not everything, from this discussion about citrulline. After reading the benefits associated with this amino acid, you must have realized its importance. The best bit about this amino acid is that it is multipurpose and yet has no considerable damaging side effects. Quite remarkable indeed! Devise a citrulline intake routine, and we are pretty sure that soon, your muscles will be pumping just like your gym fellas!